Dero Road, Ordot, Guam
(Across from the former Ordot Landfill)
Phone: 671-898-5661
Temporarily Closed
Main Admin office
17-3311 Corsair Ave, Barrigada, Guam
Phone: 671-473-4374 ext. 200
Hours of Operation:
Mon-Fri: 8AM-5PM
Manhita Farms
150 Chalan Bada, Yigo, Guam
Phone: 671-898-5661
Hours of Operation:
Mon-Fri 8am-12pm / 1pm-4pm
Sat 7am-12pm
Mulch
Wood mulch is used primarily in planting beds for its aesthetic appeal and more importantly for the health of the plants in the beds. Mulch should be kept to an approximate 3" depth to help moderate the soil temperatures so that they stay cooler in our tropical climate. It is also a great product to help keep moisture in the soils, deter the growth of weed seeds, and adds organics to the soil as it decomposes over time.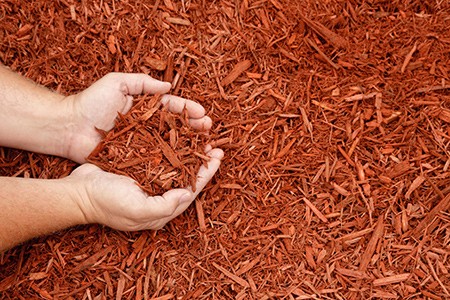 Weights for products will vary due to moisture content. Typically, mulch products weigh between 400-800 lbs. per cubic yard; Compost weighs between 1000 – 1600 lbs and soil blends weigh between 2200-2700 lbs. Pacific Topsoil & Compost will gladly load your personal truck with our product, but please double check your vehicle manufacture weight limits, we are not responsible for any damage done due to over weighting.
Available Mulch Products
Green Waste Mulch is used to retain moisture in the soil, suppress weeds, keep the soil cool, and make the garden bed look more attractive. It also helps improve the soil's fertility, as they decompose.
Decorator colored mulches provides gardeners with an option to match up mulch with the color and texture of plants in the garden. The non-fading brown or red color allows for months of consistency in your desired style.
A course mulch made from recycled pallets, its best used for large scale gardens, keeping weeds down and retaining moisture for soil and plants. It has a rougher texture than the screened mulch.
Made from the same materials as our 2-4" screened mulch, but has been screened to remove larger pieces of material producing a finer mulch that is wonderful for finishes with the added benefits of keeping weeds down and retaining moisture for soil and plants.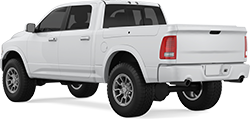 Features & Benefits
Controls Weeds

It suppresses weeds and makes weeds that do sprout easier to pull.

Keeps Soil Wet

It slows water evaporation from soil, so you don't have to water as often.

Prevents Soil Compaction

It prevents soil compaction during downpours. Loose, uncompact soil yields happy, healthy plant roots.